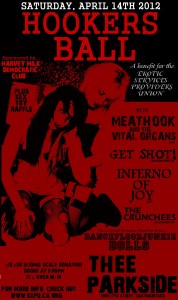 A BENEFIT FOR THE EROTIC SERVICE PROVIDERS UNION PRESENTS…
HOOKERS BALL 2012
SPONSORED BY THE HARVEY MILK DEMOCRATIC CLUB
FEATURING BANDS…
MEATHOOK AND THE VITAL ORGANS (SAN FRANCISCO)
GET SHOT! (SACRAMENTO)
INFERNO OF JOY (SAN FRANCISCO)
THE CRUNCHEES (SACRAMENTO)
PLUS THE DANCEFLOORJUNKIE DOLLS BURLESQUE SHOW FROM RENO!!!!
ALSO BUY A RAFFLE TICKET TO WIN SEX TOYS!!!!
WE ASK A $10/$50 DONATION FOR ADMITTANCE TO THE EVENT
DOORS OPEN AT 9:00 PM AND ITS 21 & OVER W/ ID
Exciting Spring Fundraiser Punk Rock Show to Support ESPU Legal Action Fund
April 14, San Francisco, CA – The Erotic Service Providers Union (www.ESPU-ca.org), in conjunction with Margo St. James HOOKER'S BALL, is proud to announce a special benefit that will support our legal action to expand sexual freedom rights by continuing to challenge the anti prostitution laws. Funds acquired during this event will to go our legal fund.
According to Maxine Doogan, organizer of the ESPU, "The spring fundraiser has a serious intent, which is to raise funds for our next effort to end the war on whores by gaining our sexual freedom not only for commercial sex workers and our customers but also for the larger public. Doogan was the proponent for Proposition K, the 2008 San Francisco Ballot initiative that sought to decriminalize prostitution as a means to bring on the job protection and safety to erotic service providers. The ESPU is honored to have the support of Margo St. James Hooker's Ball as a co-sponsor in continuing the fight for sexual freedom rights. There is a natural association with the original feminist activist and pioneer of sex-positive feminism sparking the call for the decriminalization of prostitution by founding COYOTE (Call Off Your Old Tired Ethics) which headed up a similar legal actions.
Maxine concludes, "By associating mother of the prostitutes rights movement to bring more prominent our labor rights prospective, we can better access support through our already existing structures."
Please visit www.espu-ca.org for up-to-the-minute event schedules. Door at 9pm
The Erotic Service Providers Union seeks to gain agency on behalf of all erotic service providers regarding their occupational, health, safety, social, civil, and economic rights.